It's February 2021. When we talk about convenience, it's viewed through a completely different lens now.
Our businesses have changed. Our conversations have changed. Our day-to-day interactions – affected by change.
So for service contractors and HVAC business owners who depend on productive customer interactions to continue operations – even in these virtual/remote conditions – it's essential to have a turnkey process in place that generates results.
Preconfigured pricebooks are what will set your business apart from the competition. Starting a proposal for a homeowner from scratch every time is not only eating into your available time, but it's costing you money with each repetition.
Pricebook Plus is preconfigured upon initial setup by the Pricebook support team after a full review of your brand, business processes, and custom preferences. Our implementation of Pricebook Plus can be completed in as little as 7 business days, and comes with a complete training course for both your administrator as well as your individual users. You'll quickly get up to speed with Pricebook Plus simply by using it. It's truly an easy-to-onboard experience by design.
Powered by Pricebook DataSource (our proprietary service for the HVAC industry), Pricebook Plus is always up-to-date, synchronized, and available to use in building professional proposals and options for your homeowner customers. In addition to the powerful data back-end, the front-end presentation format of Pricebook's 'Show Page' experience has been proven to covert more prospects into happy, engaged customers based on the use of Pricebook Plus' customizable presentation design. The 'Show Page' just works.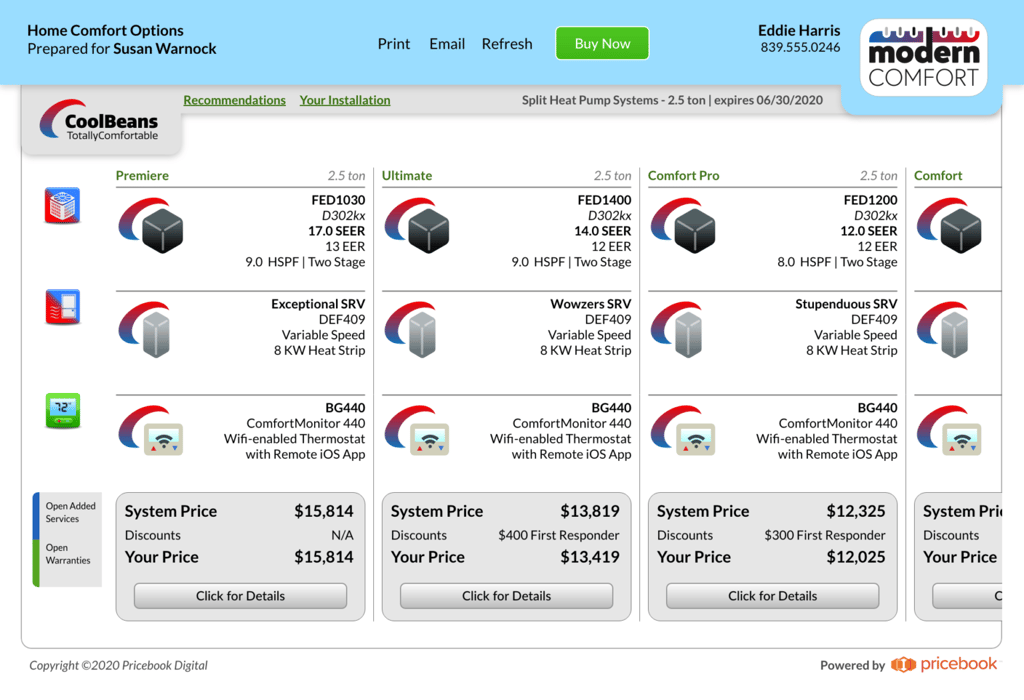 Combine the convenience of preconfigured pricebooks with the HVAC-centered design of Pricebook Plus to advance your business during uncertain and unpredictable situations.
We're ready to provide a customized demo for you and your team – click here to schedule your session.